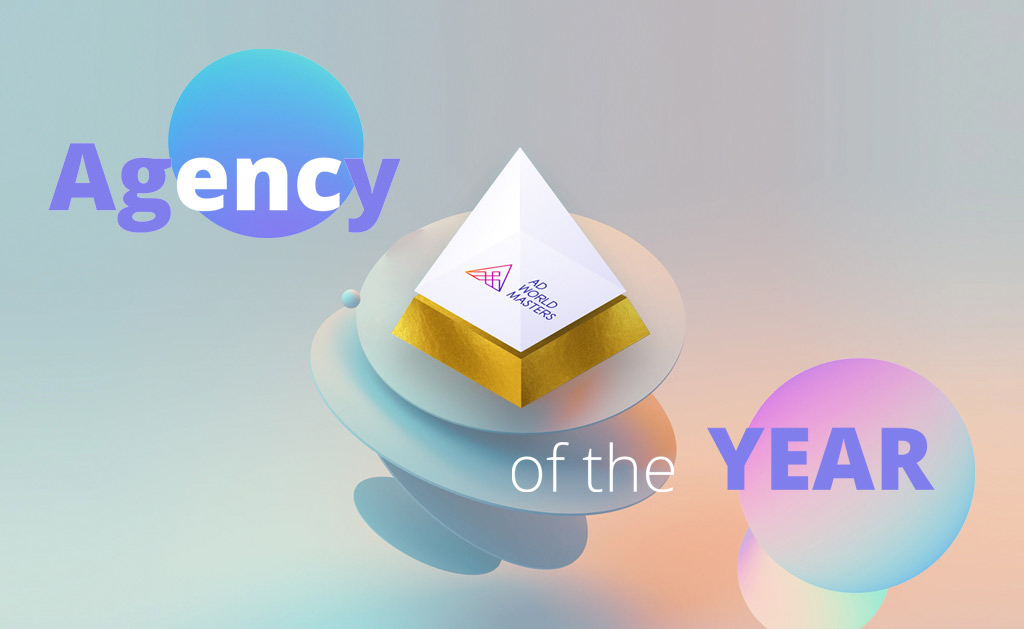 As the dawn of 2023 breaks, Ad World Masters proudly unveils its highly coveted "Agencies of the Year". Our stringent criteria and meticulous evaluation of each agency have been compiled into a ranking of the most exceptional agencies in the world.
Agency of the Year 2022 is a unique digital competition by Ad World Masters, in which agencies are rewarded according to big data, the core of ADWM. A total of over 160 data points per agency has been processed by an AI algorithm in order to calculate the Agency Score, the quintessence of this data, and provide an outlook on the agency's potential. The Agency of the Year 2022 competition is based on Ad World Masters' agency scores. All agency scores are manually reviewed by the Ad World Masters Team.
Read more on how our algorithms work and how the Agency Score is calculated.
Artificial Intelligence has left an indelible mark on the advertising landscape, revolutionizing how brands connect and interact with their target market. The profound effect of AI on advertising has been evident across all facets of the industry, ranging from the methods of targeting ads to the ways of gauging their efficacy, including graphic design and chatbots. In 2022, the influence of AI within the advertising industry continued to flourish and evolve, and we at Ad World Masters are honored to have been at the forefront of this revolution since early 2019.
Over the past year, based on our technology, we have scored and ranked over 12,322 agencies. Today we are revealing the Ad World Masters Agencies of the Year 2022 registered on our platform. Discover the top agencies thanks to a one-of-a-kind competition, highlighting the very best of what the industry has to offer.
The competition is a big chance to rediscover the industry from a different point of view. The Agency Scores represent both digital and human-controlled data – Reviews, SEO, Social, Web performance, Awards, and much more. This Agency of the Year title elevates and promotes the best agencies through factual and objective data.
Ad World Masters' mission is to match top marketers with top agencies through the use of data and our unique digital tools. If you don't have an account yet, register for free.
All eligible agencies had time until the 31st of December 2022 to fill in, and update their data and digital KPIs to improve their Agency Score. Participation in the competition and collecting digital badges are free of any charge.




The Agency of the Year title is granted in 3 categories Gold, Silver, and Bronze as follows:
Gold for Agency Scores ≥ 9.2
Silver for Agency Scores ≥ 8.7
Bronze for Agency Scores ≥ 8.5
Learn more about the rules of the competition
12,322 agencies are in our database, but only those scoring over 8.5 were selected and given the title of Agency of the Year 2022. Only 1,132 agencies, less than 10% of Ad World Masters agencies, received the titles this year. A total of 116 Gold, 665 Silver, and 351 Bronze awards have been given out!
The lists of awarded agencies are now available below for each country. Please note that each agency is present in the country which represents its base of operations, regardless of overseas offices. Explore your country or the countries you are interested in to discover the best agencies near you.
All awarded agencies are eligible for digital Agency of the Year 2022 badges for free. Our Team will give away the badges individually via e-mail until the end of February 2022. The badges can be used in social media, on the agency's websites, and in presentations. Search your favorite social media for the hashtags: #AOTYAward #ADWMAgencyoftheYear #AdWorldMasters #ADWMAward #AOTYwinner to monitor what the winners have to say. Join our community of over 60,000 on Facebook, LinkedIn, Instagram, Twitter and Reddit.

Agencies that have received the Agency of the Year title have the opportunity to buy the AOTY trophy with the title and agency name engraved on it. The AOTY trophy is an exquisitely engraved crystal pyramid on a wood base. It sends a clear message to anyone who sees it: you're dealing with a top marketing agency! It's a great conversation starter and a luxury decorative piece for any interior, designed to showcase excellence to your clients and motivate you and your team. For more details e-mail [email protected].

Not only do the awards help the industry move forward and attract new clients, but they also act as a motivator for employees. Awards help highlight team members' talent and hard work, demonstrating a collective achievement they can all be proud of both collectively and as individuals. Additionally, the award helps appeal to and attract industry talent to your agency.
Finally, Ad World Masters would like to congratulate all agencies awarded in this digital competition and encourage all agencies that missed to try their best next year.
Agencies interested in new business should learn more about our digital tools helping to acquire new clients: Chemistry Test module, Premium Account giving access to hot leads, Self-service advertising system, and others. Sign up for free.
The Future is Now: How AI is Transforming the Advertising Industry in 2022
The arrival of Artificial Intelligence has caused a significant shift in the advertising industry, changing the way brands connect with their customers. In 2022, AI's impact on advertising reached new levels, opening the door to innovative ways of engaging with audiences and boosting conversions.
Graphic design is one of the main areas where AI has made an impact in 2022. AI-powered graphic design tools like Midjourney, DALL-E 2, NightCafe, and Deep Dream Generator allow designers to quickly create visually appealing designs, freeing up time for more creative pursuits. This has streamlined the design process and improved the quality of the final product.
Chatbots and virtual assistants like OpenAI chat have also demonstrated AI's potential in advertising. Agencies can use these tools powered by Open AI technology to provide personalized customer experiences, generate content, search for new ideas, write advertising scripts, and more. The advanced technology behind OpenAI chat also provides valuable data and insights, enabling agencies to optimize their strategies and enhance the effectiveness of their campaigns.
AI has also transformed the way video content is produced. AI-powered video production tools have made it easier and faster to create high-quality, engaging videos that connect with consumers. In 2022, the use of AI in video production rose by over 60%, resulting in more impactful and cost-effective video campaigns. These tools automate repetitive tasks such as color correction and motion graphics, freeing up time and resources for more creative aspects of video production. They also provide advanced analytics, helping to optimize video content for maximum impact and ROI.
AI has also made it possible to produce personalized video content at scale, enabling brands to deliver unique and targeted messages to each viewer. In 2022, personalized video campaigns using AI saw a conversion rate increase of over 25% compared to non-personalized campaigns.
Programmatic advertising, the automated buying and selling of ad space, has also been transformed by AI. Advertisers can now target and personalize ads in real-time, thanks to AI, making campaigns more efficient and impactful. In 2022, programmatic advertising accounted for over 80% of all digital ad spending, highlighting AI's impact in this area.
AI has also been used to analyze consumer data, predicting purchasing patterns and preferences, which can then be utilized to create relevant and effective personalized advertisements. In 2022, personalized advertising campaigns using AI saw a conversion rate increase of over 20% compared to non-personalized campaigns.
In conclusion, AI's impact on the advertising industry in 2022 was widespread and transformative, opening up new ways of connecting with audiences and boosting conversions. As AI technology continues to advance, its impact on advertising is expected to increase even more in the future.
This article section was written with the help of OpenAI's language model technology. But checked and improved by humans.
Now, discover top advertising agencies. Happy browsing and scrolling.
Africa
Americas
Asia
Europe
Oceania