Agency of the Year is the unique digital competition by Ad World Masters, in which agencies are rewarded according to big data, the core of ADWM.
A total of over 160 data points per agency have been processed by an AI algorithm in order to calculate the Agency Score, the quintessence of this data, and give an outlook on the agency's potential.
Agencies of the Year 2021 competition is based on Ad World Masters' Agency Score. Please be aware that all Agency Scores of awarded agencies have been manually reviewed by the Ad World Masters Team.
Read more on how our algorithms work and how the Agency Score is calculated.
Over the past year, based on our technology, we have scored and ranked over 11,900 agencies. Today we are revealing the Ad World Masters Agencies of the Year 2021. Discover the top agencies thanks to a one-of-a-kind competition, highlighting the very best of what the industry has to offer.
The competition is a big chance to rediscover the industry from a different point of view. The Agency Scores represent both digital and human-controlled data – Reviews, SEO, Social, Web performance, Awards, and much more. This Agency of the Year title elevates and promotes the best agencies through factual and objective data.
Ad World Masters' mission is to match top marketers with top agencies through the use of data and our unique digital tools. If you do not have an account yet, register for free.
All eligible agencies had time until the 31st of December to fill in, update their data and digital KPIs to improve their Agency Score.
The Agency of the Year title is granted in 3 categories Gold, Silver, and Bronze as follows:
Gold for Agency Scores ≥ 9.2
Silver for Agency Scores ≥ 8.7
Bronze for Agency Scores ≥ 8.5
Learn more about the rules of the competition
More than 11,900 agencies are in our database, but only those scoring over 8.5 were selected and given the title of Agency of the Year 2021. Only 1164 agencies, less than 10% of Ad World Masters agencies, received a title this year. A total of 94 Gold, 607 Silver and 463 Bronze titles have been granted.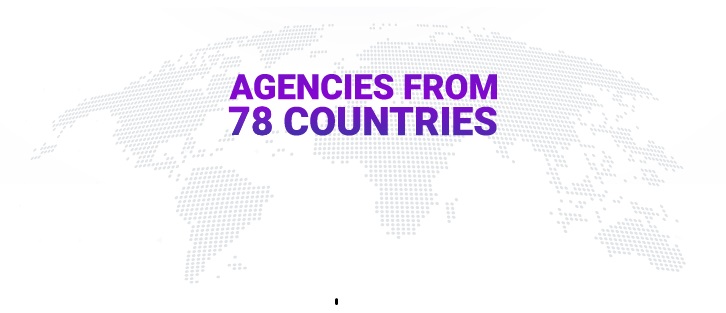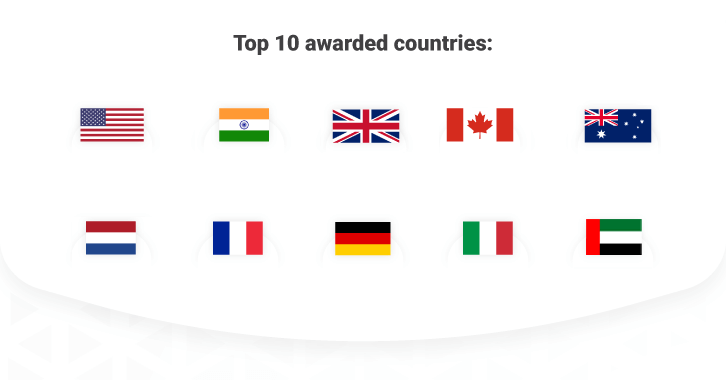 The lists of awarded agencies are now available below for each country. Please note that each agency is present in the country which represents its main origin, regardless of overseas offices. Explore your country or the countries you
are interested in to discover the best agencies near you.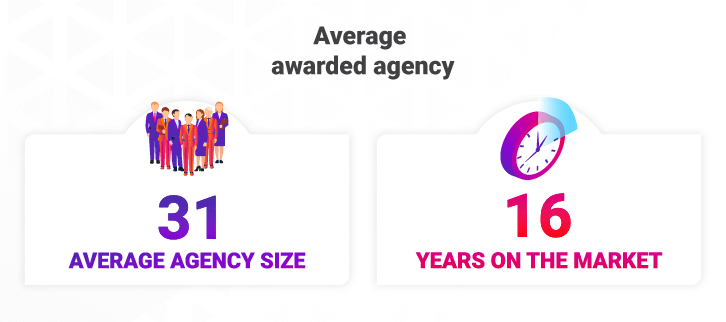 All awarded agencies are eligible to use the digital badges of the Agency of the Year 2021 for free. Our Team will give away the badges individually via e-mail until the end of January 2022. The badges can be used in social media, on the agency's websites, and in presentations.
Search your favourite social media for the hashtags: #ADWMawards #ADWMAgencyOfTheYear #AdWorldMasters to monitor what the winners have to say. Using the occasion we invite you to join our community of over 55,000 on Facebook, LinkedIn, Instagram, Twitter and Reddit.
Finally, Ad World Masters would like to congratulate all agencies awarded in this digital competition and encourage all agencies who missed to try their best next year.
Agencies interested in new business should learn more about our digital tools helping to acquire new clients: Chemistry Test module, Premium Account giving access to hot leads, Self-service advertising system, and others.
Now, discover top advertising agencies. Happy browsing and scrolling.
Africa
Americas
Asia
Europe
Oceania